Dear Friend and Fellow Entrepreneur,
Congratulations on building a Medical Transportation Business! Needless to say, preparing a highly targeted Business Plan is very important for several reasons.
First, the research and development process is critical to evaluate market opportunities. I regularly work with Transportation Providers whose enthusiasm and excitement soars as their research uncovers new possibilities and market opportunities.
Second, a Business Plan requires a competitive analysis. Therefore, your research will help you better evaluate and assess the volume, size and strengths of your competition.
Third, the development of a quality Business Plan will provide a greater sense of realistic perspective. Filled with excitement and enthusiasm, many entrepreneurs starting a new business tend to overlook or disregards areas of concern. Although optimism is essential, we need to be grounded in reality as we start a new business.
Fourth, a well-structured Business Plan can dramatically help with organization. A realistic timeline, coupled with quantifiable metrics, can help identify when new employees and additional vehicles are necessary.
Fifth, and most obvious, if you plan on raising capital, applying for a Business Loan, Line of Credit, or Grant, you absolutely need a highly targeted, well written Business Plan!


Dear Dan,
Thank you for all of your prompt emails. Your support is very reassuring and canít be understated for a newbies like us.
We completed reading Joelís ebook and received his MDT Business Plan today. It seems to be very targeted and exactly what we need. Like you said, I definitely think there is content we can extract to use in our plan. We will use the same structure as Joel for sure because I am confident we would have overcomplicated it without his guidance. This plan will definitely keep us focused on gathering what needs to be included and save us time and aggravation.
Please share our appreciation with Joel and everyone else. You guys are great!
Sincerely,
Helen McManus
With many shifts in lending procedures, preparing a detailed and thorough Business Plan is essential. Banks and other Commercial Lending Institutions are not lending money as they have in the past. They are much more selective and critical with whom they lend money.
For this reason, in developing the MDT Business Plan, I am very pleased to say that not once, not twice, but THREE times a Commercial Loan Officer reviewed and edited the MDT Business Plan.
Consider some of the details of the MDT Business Plan:
The MDT Business Plan is designed exclusively for the NEMT industry


This is NOT a generic Business Plan or template that can be used for a variety of businesses or industries. Rather, the MDT Business Plan is exclusive and highly targeted for the NEMT industry ONLY!



One of my personal bankers, a Commercial Loan Officer, responsible for receiving and reviewing business loans and lines of credit has personally read, reviewed, and critiqued the MDT Business Plan several times during the draft process and in creating the final Plan!



Why - because I want a Business Plan that is legitimately credit worthy! A Business Plan that has been "Bank Approved!"



The MDT Business Plan provides a three (3) year start-up financial strategy that is consistent with the "Controlled Growth Strategies" I reveal in my best-selling ebook, How to Build a Million Dollar Medical Transportation Company.



This "Controlled Growth Strategy" does not require you to start with a ton of money, numerous vehicles, or large amount of assets and resources. Rather, the MDT Business Plan is a progressive implementation that reflects the way I built my business and many other Providers help from around the country!



Although the MDT Business Plan uses a fictitious company name, but the data and statistics are very much current and specific to the local dynamics of my personal market! This includes accurate and up-to-date reimbursement rates, size and number of competitors, and costs of actual estimated expenses. Thus, the MDT Business Plan provides a very realistic profile of legitimate market opportunities - NOT random or fictitious markets and numbers! This is my own market!



The MDT Business Plan is a physical resource that will be shipped priority mail to your doorstep via the US Postal Service. This is not an ebook.



Included with the MDT Business Plan is a supplementary resource that provides further explanation of the details and content provided in the Plan.

To ensure NO confusion or misunderstanding, let me be clear of what the MDT Business Plan is not:
The MDT Business Plan is NOT a teaching aide! That is the purpose of my best-selling ebook, How to Build a Million Dollar Medical Transportation Company!

If you haven't yet studied How to Build a Million Dollar Medical Transportation Company, I encourage you to first read and study this critical resource BEFORE attempting to prepare your Business Plan!

However, for your convenience, you can invest in this ebook at the time of checkout. This will allow you to begin learning more about the NEMT industry while you await deliver of the MDT Business Plan.

The MDT Business Plan is NOT an oversized, overloaded, overwhelming, or hard to understand resource! I admit, my ebook is LARGE - 320 pages! But it is all very much purposeful and necessary!

In fact, the original MDT Business Plan draft was actually much bigger in size! However, after being reviewed and edited by my Banker three times it was reduced considerably so that, in the words of my Banker, "It's more direct, to the point, and explanative!"

The MDT Business Plan includes ONLY what is necessary to be Bank-Approved!
Who can benefit from the MDT Business Plan?
Anyone in the NEMT industry who is in need of a highly targeted and unique Business Plan exclusive to this industry



Anyone seeking to raise capital or plans to apply for a loan, grant, or line of credit in the NEMT industry
What is the cost of the MDT Business Plan?
The MDT Business Plan is ONLY $297.95 plus $19.35 shipping and handling. The Plan will be rushed delivered to your door via priority mail with the US Postal Service.
Remember, you need to put together the best, most highly targeted Business Plan! Especially if youíre planning on raising capital, you need to be highly targeted, knowledgeable, and demonstrate to investors why you are personally qualified to receive capital funding.
Paying someone to create a Business Plan can cost thousands of Dollars. Developing your own Plan from scratch could take a great deal of time and effort. The MDT Business Plan is going to save you a LOT of time, money and effort!
The size of your Business Plan is NOT important. Rather, the quality of your Plan is what is most important! Again, the first draft of the MDT Business Plan was THREE times greater! My Banker reduced the size by 2/3 to make it more targeted and qualified for Bank Approval.
Additional Resources:
How to Build a Million Dollar Medical Transportation Company: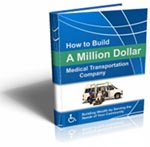 The foundational resource for building a Non-Emergency Medical Transportation Company, studying How to Build a Million Dollar Medical Transportation Company prior to writing your Business Plan will provide an improved understanding of the various integrated elements and components necessary to build a successful NEMT business.
How to Build a Million Dollar Medical Transportation Company is offered in ebook format ONLY and can be downloaded immediately following your investment. If you havenít done so already, you need to study this resource while you await delivery of the MDT Business Plan.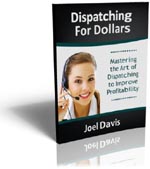 One of the most common sources of waste and inefficiency in a transportation company originates with dispatching. Effective dispatching is an art, a skill that improves over time and through creative problem solving. An effective and capable Dispatcher directly influences a Companyís bottom line by providing solutions and strategies that enhance logistical efficiency. Many Providers print and distribute Dispatching for Dollars to Dispatchers for training purposes.
Save $30 by investing in Dispatching for Dollar with the MDT Business Plan. Regularly $59.95, Dispatching for Dollars can be downloaded at the discounted rate immediately following your investment.
Entrepreneurs can invest thousands of dollars in developing an effective Business Plan. Especially when trying to raise capital, thousands of dollars is a great investment. But now, you will have the most targeted NEMT Business Plan for less than $300!
PS: Because of the sensitive nature of this material, I reserve the right increase the prices without advanced notice. Invest now to guarantee all applicable discounted rates.

See you at the Top!
Joel E. Davis